Welcome to another PokerVIP top list where we get to share all of our
favourite Twitch streams
with you! The purpose of watching Twitch streams can vary - maybe you want more insight or first-hand experience for a specific game type, or maybe you just want to unwind and watch JCarver one table while chatting with his subscribers. Either way, our list will cover all the best poker live streams so there will be something for everyone.
Starting off with the biggest name in Twitch poker streaming with no other than...Jason Somerville aka 'jcarver'
is hands down the most popular Twitch streamer. He recently broke his previous poker category viewership record
with an audience of almost 40,000
while
playing in the WCOOP
. He does only play ONE table at a time however, so viewership to his stream is likely for entertainment rather than analyzing game play,
however you can't take away that the guy is definitely a successful poker player.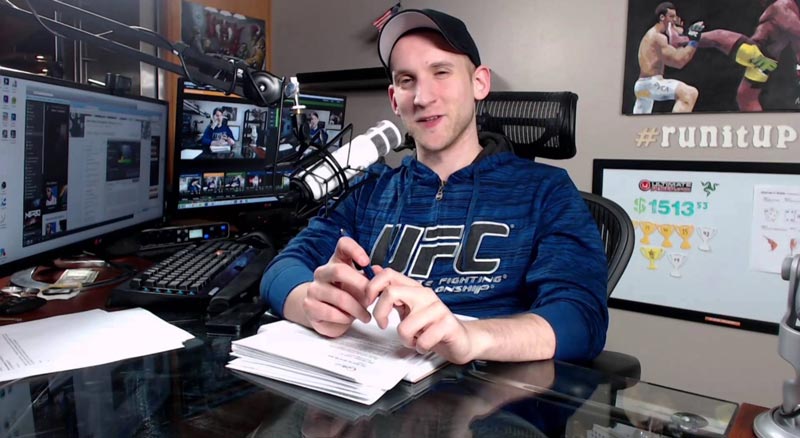 Not to look too biased here listing off four PokerStars pros but these guys are at the top of the followers list for Poker streams, and they go live on a very regular schedule.
The PokerStars Streamer Pack
With the well-known streamers noted, let's get on to some of the medium popularity players who deserve their share of the spotlight.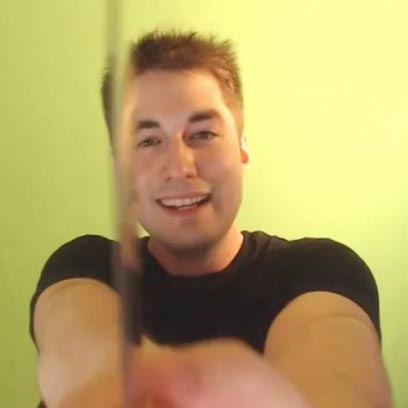 Brace yourself for one of the more interesting Twitch poker streams out there
- Adrian may only stream for a few hours at a time but his action packed sessions are sure to entertain.
Recently hitting over 10k followers
he is one of the more well-known streamers - he definitely contributes to the Twitch poker community.
Adrian plays anywhere from 1/2 to 5/10 across a wide variety of sites.
His streams are often appreciated as he's able to break down his game play and explain things in an easy-to-digest manner for his viewers. He's also seen a fair amount of success in other games so don't be surprised if you catch him streaming CS:GO, Hearthstone, or some of the other popular games out there.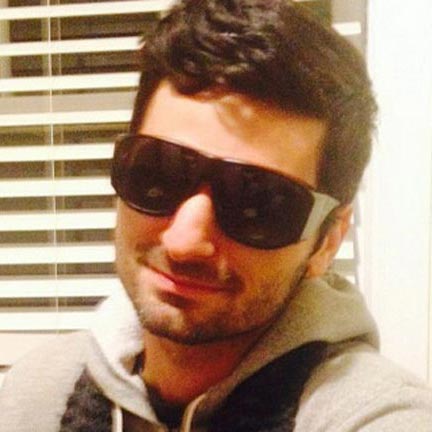 Joel 'Jpatche' Patchell is one of my favourite streamers
- he's up there with the top cash players on Twitch. His level headed and analytical approach to the game makes watching his stream highly enjoyable and educational as you get insights into the decisions of a guy who's been a pro since 2004.
Starting at just 25NL he's worked his way up to participating in 200/400 PLO games on Full Tilt.
When watching Jpatche's stream enjoy uninterrupted action as during bathroom breaks he continues play from his iPad using a remote desktop control. Among other quirks he often has his green screen set up to feature exotic backgrounds, and his loveable dog always shows up to eat his leftover apple core!
Definitely check Jpatche out
- he almost always streams on weekdays during the day (Eastern time).
If you're looking for a solid MTT streamer to watch who interacts marvelously with his viewers - look no further.
Fintan 'EasyWithAces' Hand streams every week day from his grind house in Malta and plays MTTs while providing solid analysis til he drops.
He's super friendly and great to watch,
and he tweets out before he goes live each day so you'll never miss the action. He has given up his more hardcore SNE grind to get more involved in the streaming community and so far I'd say he's doing wonderfully.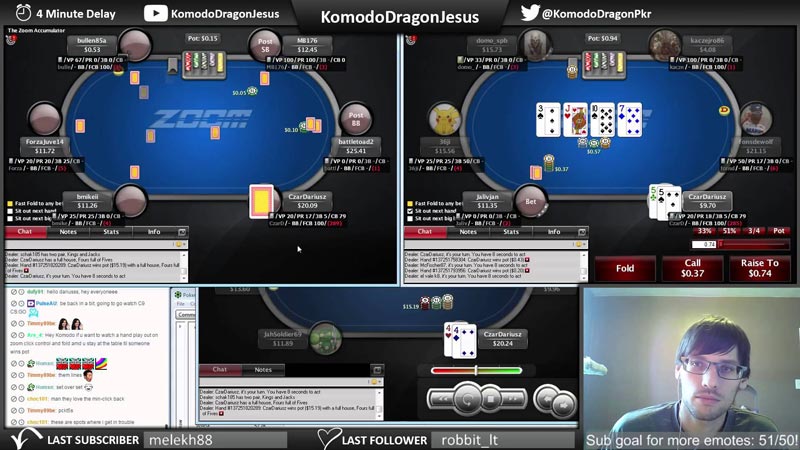 Another one for the list for the most friendly and interactive streamers on Twitch poker,
Darius 'KomodoDragonJesus' has so heavily integrated himself in the community that the Poker category would be at a loss without him.
Check out Darius' stream for regular cash games on PokerStars, and fun viewer events with all of his subscribers.
Check out an
interview he did with PokerTube
recently
to get some more insights into the life of this Canadian streamer.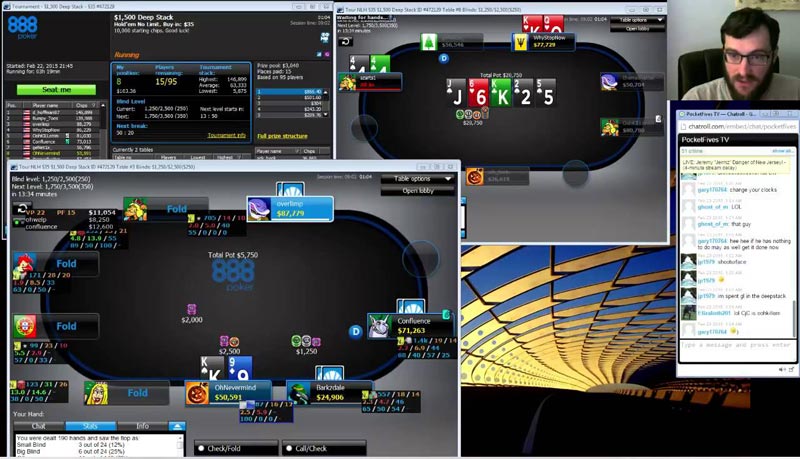 One of the few US based streamers is PokerJermz
- a stay at home dad and poker pro.
With over $300,000 lifetime winnings
he's ranked #3 in New Jersey on PocketFives.
Watching his stream you can expect insights from a long-time online grinder who mainly plays 50 and 100 NL.
Did we miss anyone?
I know that everyone's favourite streamers are going to be based on personal opinion, but if you really feel like we've missed out on any of the best poker live streams then feel free to leave a comment below and we'll check it out and consider adding it to the list!
Other Top Recommended Content
If you enjoyed reading this article, take a look at our other top recommended "Top Tips" articles...
Or why not brush up on your poker skills by watching some PokerVIP coaching videos?